US/CAN CH WOOFSLAIR'S SERAPHIM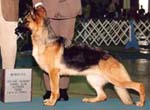 Our Seraphim is almost 8 years old now and still full of the rich red/black pigment and thick plushy coat that made her reputation. She has tight compact feet and dark, almond shaped eyes. She has a strong back and movement like poetry in motion. Sera is mentally and physically sound with a rock solid temperament that takes everything in stride. She finished her dual championships at just barely over two years of age. Now finished with showing and breeding, Sera has left a legacy of puppies to follow in her pawprints.
PUPPY PLANS ARE BEING MADE!!
Plans are being made for the puppies from both Chablis' Teri of Sea Crest, HIT and WoofsLair's Addis Ababa, a.k.a. Lil' Bit. The father of Teri's puppies will be the 2000/2001 National Champion, GVCH Hickoryhill's Bull Durham. The father of Lil' Bit's puppies will be the 2001/2002 Best in Futurity Dog, Chablis' Piano Man of Coda. Bull Durham is a black and tan male whose coat is accented with red. He has the big bold stallion-type look and the easy movement that made him the easy choice for National Champion. "He has an excellent temperament and the true Shepherd character with a desire to work from start to finish." (Judge Joseph Bihari). Piano Man is a darker black and tan dog who at two years of age is just growing into his potential. He has already been named Best in Futurity for 2001/2002 which is the show for the potential best dogs into the future. Piano Man "looks like a German Shepherd, acts like a German Shepherd, and moves like a German Shepherd. He is very sound." (Judge Joe LaRosa) He is a very dark black and tan male with a head piece and bone structure that exudes masculinity. Both of these breedings should produce beautiful, physically and mentally sound puppies ranging in color from black and tan to black and red in coloration.
Come , meet the "Crew" here at WoofsLair…..
Chablis' Teri of SeaCrest, HIT
(Sea Crest's maximum Force, CGC, TC X Chablis' Debutante of Ruklakar))
bred to
GVCH Hickoryhill's Bull Durham, ROM
(2x GVCH Stoneway's Uecker, ROM X Hunde Haus Zoee Rosita)
AND WoofsLair's Addis Ababa, a.k.a. Lil' Bit
(CH Hi-Lo's American Made X Char An's Annabella of Adorher)
bred to BIF Chablis' Piano Man of Coda
(US CH/Sel. Can CH Lin-Ter's Tiburon of Chablis X Chablis Mad About U Nitewynd)
CHABLIS TERI OF SEA CREST, HIT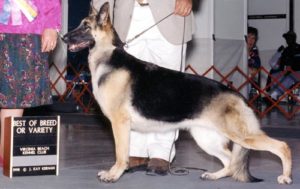 Teri is a mischievous, but calm black and tan bitch who has an incredible, balanced movement. She has very dark eyes, great feet and thinks that her proper position in life is in your lap. She quickly took to herding and has guided the sheep like a pro at herding trials which she attends in-between confirmation shows where she has received major points.
WOOFSLAIR'S ADDIS ABABA, a.k.a. Lil' Bit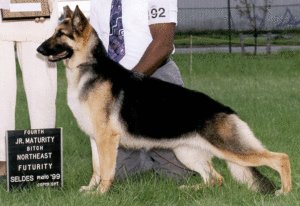 Lil' Bit is a petite black and tan bitch with a silky coat, dark almond eyes and a strong back. She has wonderfully tight feet and a movement that seems to have her floating about 3 inches off the ground. She is a very mischievous little dickens with a terrific temperament and an eager desire to please.